Aqualyx Fat Dissolving Injections
Troubled by stubborn areas of fat that just don't seem to go away no matter how hard you try? Fat dissolving injections with Aqualyx may be just what you are looking for.
Click the button below to download our FREE comprehensive guide to learn more about the treatment and our discounted courses!
What is Aqualyx Fat Dissolving Treatment?
If you're struggling with stubborn fat deposits that just won't go away no matter how much you diet and exercise, Aqualyx fat-dissolving injections might be the solution you've been looking for.
This non-surgical treatment involves injecting a special solution into targeted areas of fat, which then breaks down and dissolves the fat cells.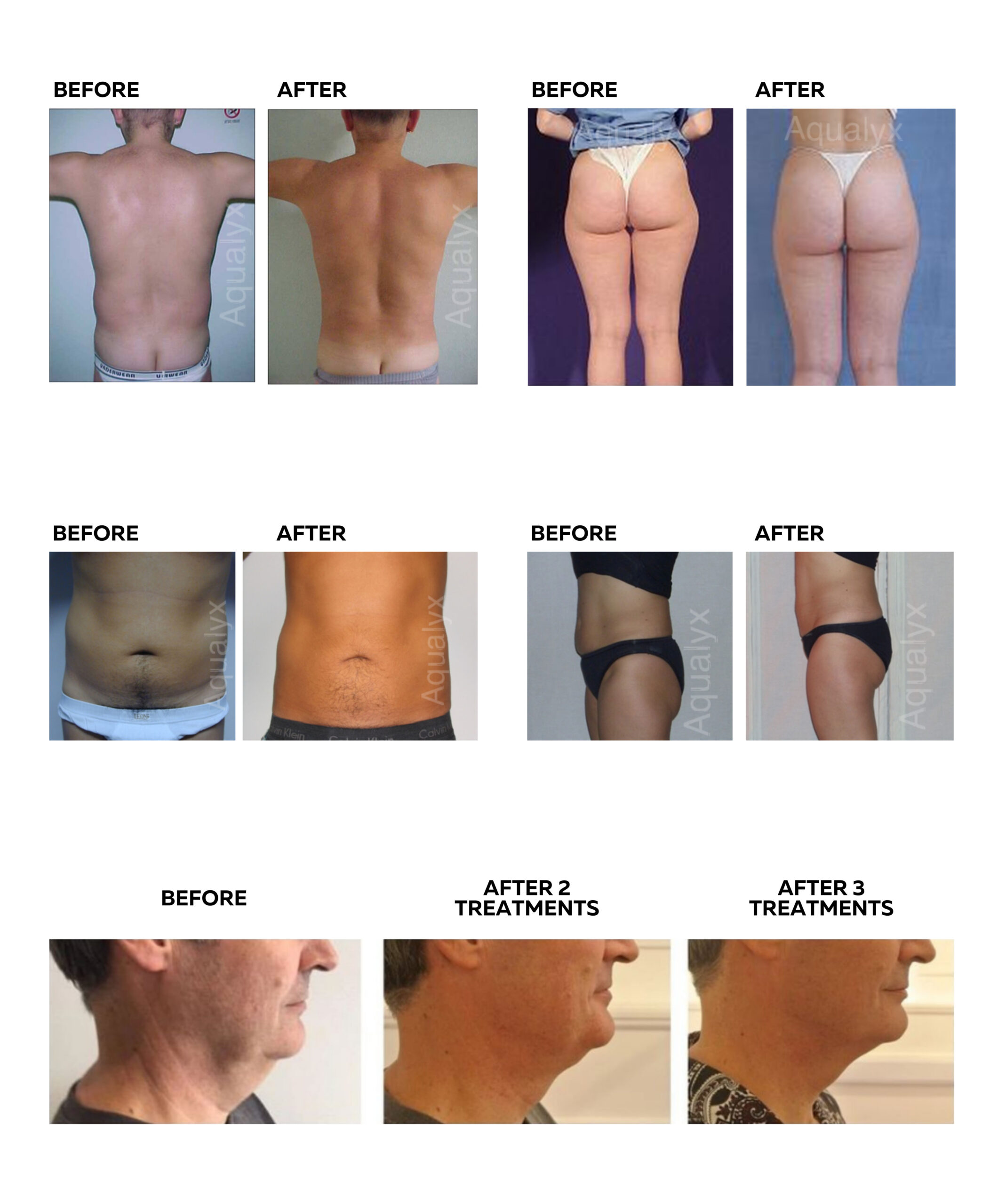 How can Aqualyx Fat Dissolving Injections Help me?
Non-Surgical and Non-Invasive
Unlike liposuction, which requires incisions and the removal of fat through suction, Aqualyx fat-dissolving injections are completely non-surgical and non-invasive. This means you won't have to worry about any scars or recovery time, and you can go back to your normal activities immediately after the treatment.
Aqualyx fat-dissolving injections are quick and convenient, with most treatments taking just a few minutes to complete. You can easily fit them into your schedule without having to take time off work or other commitments.
Another benefit is that Aqualyx fat-dissolving injections have been shown to be safe and effective in clinical studies, with no major side effects reported. The solution is made of naturally occurring substances that are well-tolerated by the body, so you can have peace of mind knowing you're not exposing yourself to any harmful chemicals.
While results can vary depending on the individual, many people experience long-lasting results after Aqualyx fat-dissolving injections. The fat cells that are dissolved are gone for good, so you won't have to worry about them coming back.
Overall, Aqualyx fat-dissolving injections are a safe and effective way to get rid of stubborn fat deposits without the need for surgery.
How do Fat-Dissolving Injections Work?
The non-surgical treatments called Aqualyx & Celluform are simple, safe, and effective alternatives to liposuction with a friendlier price tag!
The treatment involves injections of Aqualyx or Celluform into areas of stubborn fat. They contain plant polymers that bind with the cell walls of the fat tissue and release the fat to be dissolved.
Once the formula has liquified the fat cell, it's then eliminated through urine over a three-week period.
Who can Benefit from Fat Dissolving Treatments?
Aqualyx & Celluform are intended for people with localised fat tissue not responding to diet or increased physical exercise. It's not intended for weight loss as such, but rather to improve and alter the contour of the body by removing stubborn areas of fat.
Think fat-dissolving treatments might benefit you? Why not check out our latest blogs to learn more…
Where can Aqualyx be used?
Aqualyx can be used anywhere on the face or neck where fat cells have built up. It can also be used to treat stubborn fat areas on the body.
The following are some of the most popular therapy areas:
FREQUENTLY ASKED QUESTIONS
What is Aqualyx?
Aqualyx is a non-surgical, injectable treatment that is used for fat dissolving. It is made up of a solution of deoxycholic acid, which is a natural acid found in the body that helps to break down and eliminate fat.
How does Aqualyx Fat Dissolving work?
Aqualyx works by injecting the solution into the targeted area, where it breaks down and dissolves the fat cells. The body then naturally eliminates the fat through the lymphatic system.
Does Aqualyx actually work to reduce fat?
Does Aqualyx actually work to reduce fat?
Yes, it does!
While results can't be compared to surgical liposuction, where large amounts of fat are permanently removed from the body, the results of fat dissolving injections are still permanent.
Why not just diet and exercise?
Why not just use diet & exercise?
Sometimes diet and exercise are insufficient to get the form and profile we desire, and some regions are left behind, stubborn and difficult to shift.
AQUALYX injections can help with this since they can be used to target and break down fatty cell accumulation.
Fat cells are broken down and eliminated by regular biological functions after treatment, resulting in a slimmer contour.
How soon will I see the benefits from my fat dissolving injections?
How soon will I see the benefits from my fat dissolving injections?
The treatment takes time to reach its full effect but patients that have undergone follow-up examinations seven years after therapy still show a reduction in fat tissue in the treated areas. Some patients get good results from a single treatment, but many require 2-3 treatments. Rarely, up to 8 sessions are required for difficult areas. The recommended interval between repeat treatments is 4-6 weeks.
Are fat dissolving injections safe?
Are fat dissolving injections safe?
No major untreatable side effects have occurred in over 2 million treatments worldwide so far. Not one single incidence of overdose or toxic effects has been recorded.
What are the side effects of Aqualyx fat dissolving injections?
The most common side effects of Aqualyx fat dissolving injections are swelling, bruising, and redness at the injection site. These side effects are usually mild and will typically resolve within a few days.
What happens after my fat dissolving treatment?
Aftercare for fat dissolving injections
You will have some swelling and redness in the area where we dissolve the fat for a few weeks.
This starts to settle after a few days and is normally gone in 3-4 weeks. You may have some discomfort but this is not usually severe. A little bruising is expected. You should not exercise for 5 days and some patients find mild compression clothing (e.g. Spandex) helps for non-facial treatment areas.
A low-fat diet can help to increase the effectiveness of Aqualyx. Long-term benefit is possible with a healthy lifestyle. The doctor or nurse will see you again after 4-6 weeks for review and consider further treatment.
Do fat dissolving injections permanently remove fat?
Do fat dissolving injections permanently remove fat?
Fat cells will not regenerate or return once they have been destroyed.
However, it is critical to follow sound lifestyle guidelines, such as eating a nutritious diet and exercising regularly. This prevents the remaining fat cells from growing in size.
What aftercare do I need to follow after Aqualyx fat dissolving injections?
What aftercare do I need to follow after Aqualyx fat dissolving injections?
While it is generally a safe and effective treatment, it is important to follow proper aftercare instructions to ensure the best possible results and minimize the risk of side effects.
After receiving Aqualyx injections, it is normal to experience some swelling, bruising, and discomfort in the treated area. You should avoid massaging or rubbing the area, and you should also avoid applying any heat to the treated area (such as using a heating pad or taking hot baths). You should also avoid wearing tight clothing or participating in strenuous activities that could put pressure on the treated area.
You may be advised to take over-the-counter pain medication if you experience discomfort after the treatment. You should also keep the treated area clean and dry, and you may be advised to use a cold compress or take a pain reliever to reduce swelling and discomfort.
It is important to follow the aftercare instructions provided by your practitioner closely, as improper aftercare can increase the risk of side effects. If you experience any unusual symptoms or have any concerns after your treatment, you should contact the clinic for further advice.
By following your practitioner's instructions and taking good care of the treated area, you can help to minimize the risk of side effects and achieve the desired outcome.
Fat Dissolving Treatments Start From £399
Arrange an appointment today to see the benefits of this amazing fat-busting treatment.
I was very nervous about attending Freyja Medical but there was no need to the receptionist was absolutely lovely and so was the Doctor who explained everything to me even my questions I kept on asking. I came out feeling that my problem can finally be sorted. Thank you so much 🙂
I would definitely recommend freyja medical. As soon as you walk in you are made to feel welcome. Had micro needling treatments by Hattie and Sigita they are so friendly and very professional at what they do. Can't thank Dr Dean and his team enough! My journey to better skin has begun. Thank you. 😊
Sarah Harrison
2021-09-19
Great treatment and service from a professional team. I've used Freya Medical for just over a year and I'm delighted with the results. I thoroughly recommend them.
Absolutely superb clinic. Can't recommend James, Keli and their team enough. The team at Freyja truly care about their clients and getting the right results. I've had consultations for both dermatology and aesthetics everyone I've seen has shown true compassion and I've never felt under any pressure to get treatments done and all consultations have been incredibly detailed. Thanks to Freyja not only has my skin improved but my mental health and confidence have improved too. I'm no longer embarrassed about my skin and admitting that I have Roseaca, as thanks to James and Keli I now have the right diagnosis and understand my condition. I'm now following a course of IPL and Hydrafacials with Sigita and Hattie who are both outstanding at what they do, these ladies are so knowledgeable and thorough and always make sure I'm comfortable throughout treatments. The Nantwich clinic is in a beautiful location with plenty of parking, everything in both clinics is ultra modern and clean. If there was an award for best clinic in the universe Freyja would win it hands down.
Jessica Simmonds
2021-09-10
Freyja Medical have become my new go to for all facial and aesthetic treatments. I can't stress enough how fantastic they are. All the staff are helpful and friendly and their nurse therapists are passionate about getting you the best results from your treatment. Don't hesitate in going to them for any of your needs! 10/10 🙂
James & his team provide a caring & professional service at all times. If anyone is considering any form of non-invasive treatments then this is most definitely the clinic that you should be seeking advice from. The Nantwich clinic is the perfect place to go for all of your skin concerns. The knowledge that the staff have is second to none & they will guide you in the best possible way for great results. There certainly is no better place to go!
Amazing experience- spent years worrying about lines on my upper lip. Booked appointment with the lovely Clare . She totally put me at ease, explained the procedure and aftercare in detail . The actual treatment was painless and the results were immediate. I feel like a happier person after my tweakment xxx
Excellent service and patient care. From the consultation stage through to treatment. From Kathy on reception to Dr James. Seamless experience. Pleasant surroundings and stress free environment. Thank you. Mary B.
Denitsa Slavcheva
2021-08-25
You made my day. Very friendly, good and helpful staff. Thank you from the bottom of my heart, Dr. James Dean. I went to the clinic very worried, but you made me feel comfortable. See you again. Thank you from the bottom of my heart. X